Obituary for Lydia Wickline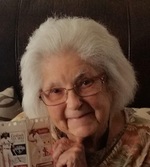 Lydia R. Wickline, nee Crick, 87, of O'Fallon, IL, passed away on Wednesday, October 25, 2017 in Lebanon, IL. She was born January 19, 1930 in Nortonville, KY.

Lydia was a former member of Celebration Ministries in Clarksville, IN. Anybody that knew her would say that she was a strong-willed church going woman. She came from a family of eight kids. While Lydia was growing up with her siblings, her and her sisters would take care of the family while her brothers went to work at young ages. As Lydia grew older her center of focus continued to be on her family. She loved to play Chinese Checkers or cards with anybody and everybody. Lydia enjoyed peaceful time where should could read or complete a word puzzle.

She was preceded by her parents, Elmer and Paradine Crick, nee Bullock; husband, Carl A. Wickline; son, Carl S. Wickline; daughter, Brenda Long; three brothers, Eldon Crick, ONeal Crick, and Melvin Crick.

She is survived by one son, Michael (Deborah) Wickline of O'Fallon, IL; two sisters, Janetta Hargett of Jeffersonville, IN, Faye Claypool; two brothers, Raymond (Shirley) Crick of Jeffersonville, IN, Jerry (Audrey) Crick of New Washington, IN; six grandchildren, thirteen great grandchildren and two great-great grandchildren.

The family requests memorials may be made to The American Cancer Society (donate.cancer.org) or The Alzheimer's Foundation of America (alzfdn.org/support-us/donate). Condolences may be extended to the family online at www.schildknechtfh.com.

Private family services will be held at a later date.

Arrangements have been entrusted to Schildknecht Funeral Home.