Obituary for Ruth Delva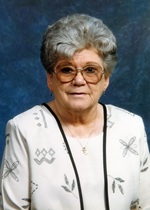 Ruth M. Delva, nee Tribout, 87, of Belleville, IL, born August 28, 1929 in Belleville, IL, passed away quietly in her sleep on March 28, 2017.

Ruth retired after being a service manager for more than 20 years at a Chrysler dealership in Rantoul, IL. She was a member of Trinity United Church of Christ.

Ruth was preceded in death by her husband, Henry Delva; parents, Frank and Ida Tribout, nee Stoeber; three children, Barbara Woodley, William Delva and Cynthia Fullenkamp; and one sister, Shirley Schinzing.

She is survived by her children; Diana (Tom) Burt of Mascoutah, IL, Connie (Robert) Plymptom of New Orleans, LA, Cindy (Dale) Brueggemann of Belleville, IL, Frank Wonycott of Utah, Eddie Wonycott of Rantoul, IL, Barb Jones of Lakeland, FL and Kim Lawler of Rantoul, IL; 28 grandchildren, 30 great-grandchildren and one great-great grandchild.

Memorials may be made to the Alzheimer's Association (www.alz.org) or the Belleville Humane Society (www.bahspets.org).

Memorial visitation will be held from 5:00 pm – 6:30 pm on Monday, April 3, 2017 at Schildknecht Funeral Home, 301 S. Lincoln Ave., O'Fallon, IL 62269, funeral service beginning at 6:30 pm with Pastor R.J. Morgan officiating.

A memorial services will be held at the funeral home at 6:30 pm on Monday, April 3, 2017 with Pastor R.J. Morgan officiating.

Inurnment will follow at a later date in Danville, IL.

Arrangements have been entrusted to Schildknecht Funeral Home.