Obituary for Donna Bender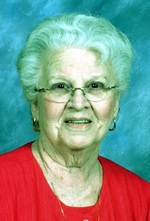 Donna A. Bender nee Schildknecht, 89, of O'Fallon, IL, born December 13, 1927, passed away Monday March 27, 2017.

Donna was a member of the O'Fallon United Church of Christ, the Women's Guild, 50+ Club and the Order of the Eastern Star #487. Donna loved the fact she was a homemaker for her family, she enjoyed cross stitching was an avid reader and constantly being on the go with friends and family.

She was preceded in death by her loving husband; George Bender, parents; George Phillip and Erma A. Schildknecht nee Yanda.

She is survived by 2 sons; Jeffery G. and Georgia Bender of O'Fallon, IL, Steven C. and Sarah Bender of New Baden, IL, 2 grandchildren; Jamie and Stephen Eros of Belleville, IL, Katherine and Garrett Mason of Indianapolis, IN, 4 great grandchildren; George Marble, Jonathan Marble, Samuel Eros and Audrey Mason.

Memorials may be made to the O'Fallon United Church of Christ, American Diabetes Association, or the O'Fallon Public Library. Condolences may be extended to the family online at www.schildknechtfh.com.

Memorial visitation will be held from 10:00 am – 11:00 am Saturday April 8, 2017 at the O'Fallon United Church of Christ 206 W. Adams St., O'Fallon, IL 62269

Memorial services will be held at 11:00 am from the Church with Rev. Dr. Martha Thierheimer officiating.

Private Burial will be held at O'Fallon City Cemetery, O'Fallon, IL.

Arrangements have been entrusted to Schildknecht Funeral Home.