Obituary for Dale Reeser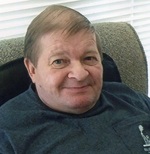 Dale Joseph Reeser, 69 of O'Fallon, IL, born June 27, 1948 in Washington, IL, passed away on Monday October 23, 2017 at Cedar Ridge Health Care in Lebanon, IL.

Dale was retired from the United States Air Force as a Master Sgt., Veteran of the Vietnam war and member of the Air Force Sergeants Association. While his boys were growing up he served as a Cub Scout and Boy Scout leader, coached many little league sports and later he liked to play in his weekly pool league, watch the Chicago Bears Football and Cheer for his beloved St. Louis Baseball Cardinals.

He was preceded in death by his parents: Joseph and L. Ellen Reeser, nee Netherton.

Dale is survived by 3 children; 2 sons, John "Jay" (Amy) Reeser of O'Fallon, IL, Michael (Tiffany) Reeser of Lebanon, IL, daughter, Marianne (Martin) Saenz of O'Fallon, IL, mother of his children; Patricia Reeser of O'Fallon, IL, 7 grandchildren; Tyler Reeser, Jacob Reeser, Alexis Reeser, Meghan Reeser, Aubrey Saenz, Noah Reeser, Christian Saenz.

Memorials may be made to the Calvary Community Church 115 E. Jefferson St. Washington, IL. 61571. Condolences may be extended to the family online at www.schildknechtfh.com.

Visitation will be held Friday, October 27, 2017 from 5:00 pm – 7:00 pm at Schildknecht Funeral Home, 301 S. Lincoln Ave. O'Fallon, IL.

Funeral services will be held Friday, October 27, 2017 at 7:00 pm at the funeral home with Rev. Vance Vyers officiating.

Burial will be scheduled later at Olio Township Cemetery in Eureka, IL.

Arrangements have been entrusted to Schildknecht Funeral Home.