Obituary for Laurene Schultz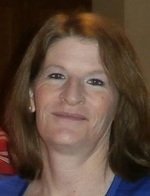 Laurene Tracy Schultz, nee Donahue, 46, of Mascoutah, IL, passed away on Sunday, October 22, 2017. She was born May 17, 1971 in Stoughton, MA.

Laurene had received her associates degree in criminal justice to become a victim's advocate. She took pride in her education and was on the Dean' List. Laurene was a big fan of the New England Patriots and the Boston Red Sox. Laurene had a loving soul, she was always helping those in need and was a loving wife and caring grandmother. She had a passion for animals and truly loved her pets, Baby and Happy and her adopted horse, Commanchee. She enjoyed working in her flower garden and sitting on the swing in her backyard with her husband, Larry.

She was preceded by her parents; Daniel Francis and Elizabeth Mae Donahue, nee Smith.

She is survived by her husband, Larry Schultz of Mascoutah, IL; four children, Justin Miller of Belleville, IL, Joshua Miller of Guin, AL, Jeremy Miller of Florissant, MO, Matthew Schultz-Harvey of Augusta, ME; one sister, Rhonda (Joe) Costa; three brothers, Kevin McAvoy, Dave Donahue, Dan Donahue; and four grandchildren, Skilyn Wick, Madison Miller, Lily Miller, Caleb Hicks-Miller.

The family requests memorials may be made to Equus Horse Rescue, P.O. Box 1032, Columbia, IL 62236. Condolences may be extended to the family online at www.schildknechtfh.com.

Visitation will be held from 4:00 pm - 8:00 pm on Saturday, October 28, 2017 at Schildknecht Funeral Home, 301 South Lincoln Avenue, O'Fallon, IL 62269.

Funeral services will be held at the funeral home at 6:00 pm on Saturday, October 28, 2017 with Pastor Israel Rivera officiating.

Arrangements have been entrusted to Schildknecht Funeral Home.