Obituary for Doris Bleau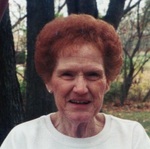 Doris I. Bleau, nee Retherford, 83, of Carrollton, IL passed away on Tuesday, November 7, 2017. She was born December 14, 1933 in Jacksonville, IL.

She graduated from Lewis and Clark Community College with a Law Enforcement Degree and from there she ventured into real estate obtaining her real estate license. She worked at Dandy Inn for 30 years and was "The Bartender". When Doris was not working, you could find her traveling the world while raising a beautiful family. She enjoyed spending time with her late husband, Tom, and his friends and looked forward to the evenings where her and Tom would go gambling. Doris was an extremely hard worker, instilling this hard work in her children. Overall, she loved nothing more than taking care of her family and grandchildren.

She was preceded in death by her parents, Clarence and Sarah Louise Miller, nee Hembrough; husband, Thomas R. Bleau; and three brothers.

She is survived by four children, Sandy (Jim) File of Carrollton, IL, Larry (Susie) Bradshaw of San Diego, CA, Eric (Debbie) Bien of Jacksonville, IL, Doug (Kathy) Bien of Troy, IL; one step-son, Tim (Dianne) Bleau of Stafford, VA; eleven grandchildren, Steve Robinson, Mike Robinson, Phil Robinson, David Bradshaw, Suzette Bradshaw, Ciara Blakey, Richelle Bien, Derrick Bien, Jeff Bien, Paul Bleau, Katie Bleau, and six great-grandchildren, Colin Robinson, Hannah Robinson, Adam Robinson, Nick Robinson, Noah Robinson, Daisy Bien.

The family requests memorials may be made to White Hall Nursing and Rehab, 620 W Bridgeport St, White Hall, IL 62092. Condolences may be extended to the family online at www.schildknechtfh.com.

Visitation will be held from 12:00 pm - 12:45 pm on Monday, November 13, 2017 at Schildknecht Funeral Home, 301 South Lincoln Avenue, O'Fallon, IL 62269.

Graveside services will be held at O'Fallon City Cemetery at 1:00 pm on Monday, November 13, 2017 with Msgr. William Hitpas officiating.

Arrangements have been entrusted to Schildknecht Funeral Home.